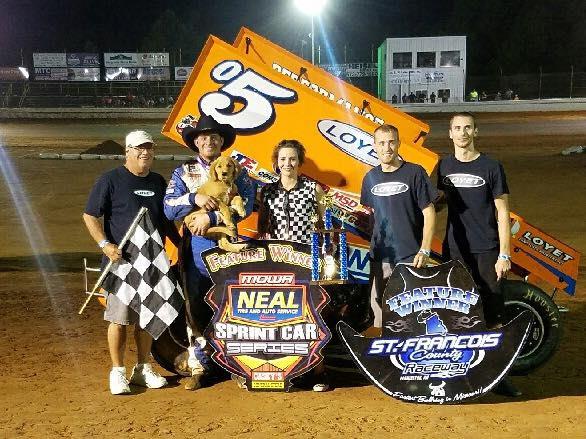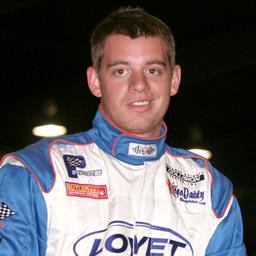 ---
Brad Loyet – Season's Third Win Comes at Farmington!
Brad Loyet – Season's Third Win Comes at Farmington!
(Bill W) June 19, 2017 – Brad Loyet and the Vacuworx Global #o5 team picked up their third win of the season Saturday night in MOWA action at St. Francois County Raceway near Farmington, Missouri. The Sunset Hills, Missouri driver will see action the next couple of weeks in midget and 410 and 360 sprint action in three states.
Brad has always been strong when towing to Farmington. "I really haven't run a whole lot of laps there," he says. "It's kind of a track that suits my style and we've found a balance with the car at. It's a tricky joint. It's not easy to figure out. It's got two completely different corners and it's usually really slick."
He started fourth in his heat. "We were able to get to second in the first corner, and we were able to lead the second lap," says Brad. "We had one stoppage for (Chris) Urish, but that really didn't hurt us. We went on to win the heat race and we were second in passing points."
An invert of four was drawn, putting Brad inside row two to start the feature. "They reworked the track before the first stock car feature," he says. "I didn't really even look at the track, because I knew it would be blown off by the time we got out there with 25 cars. It's not going to last for 25 laps with that."
The team's setup proved to be the right one. "We tightened our car up quite a bit," says Brad. "It took two or three laps to take the lead. The bottom was pretty good. We were able to get by the second place car down there, and then we cleared Kent Buckley for the lead using the cushion."
Brad says the feature took a while to get rolling. "It seemed like there were 35 yellows the first five laps. Everyone was spinning out and crashing on restarts. We almost needed a fuel stop before we got five laps in. Lapped traffic at Farmington is always crazy, and we had a couple close calls. Overall, we were in good shape and it was good to get another win."
He hopes to add to his win total the next couple of weeks. "We're really not sure what we'll be doing this weekend," says Brad. "But the next weekend, we have four races scheduled with the midget, 410 and 360, so we'll be busy. We'd like to add a couple more wins to our list if we can."
Brad's Website
Visit Brad on the web at www.LoyetMotorsports.com!
Brad's Weekly Releases
If you'd like to be added to Brad's e-mail list for weekly releases, e-mail sprntcar@hotmail.com with "Loyet" in the Subject Line.
Brad and the Loyet Motorsports team would like to thank primary sponsors: Vacuworx Global and Loyet Landscape Maintenance. Associate sponsors: Maxim Race Cars, J and D Performance Racing Engines, Butlerbuilt Professional Seat Systems, Meramec Heights Collision Center, KSE Racing, Weld Wheels, Penske Shocks, Wilwood Disc Brakes, Hepfner Racing Products, DMI, Saldana Racing Products, Rod End Supply, Bell Helmets, TI 64, Conroy Control, The Engine Heater, Ealey Transportation, and Speedway Motors.
Photo: Brad and the team posed with "Champ" for his first photo in Victory Lane Saturday (MOWA Photo)
Bill W Media
sprntcar@hotmail.com
Twitter: @BillWMedia
Website: www.OpenWheel101.com
Monroe, IA USA
Back to News