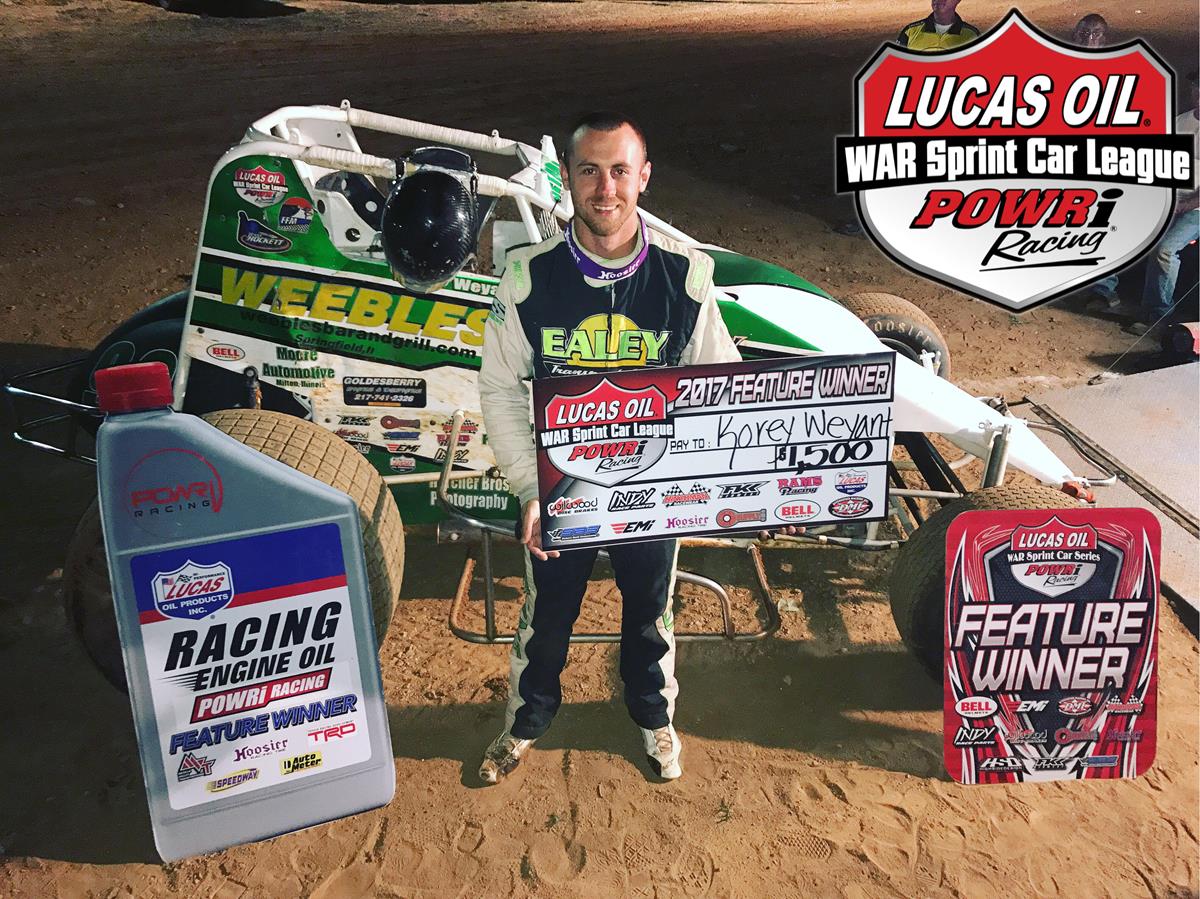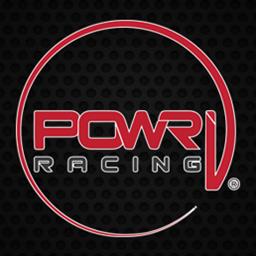 ---
WEYANT DECLARED WINNER AT ST. FRANCOIS COUNTY RACEWAY
Farmington, MO (July 1, 2017) - After dominating the 25 lap POWRi Lucas Oil WAR/WAR East A-Main at St. Francois County Raceway, Joe B. Miller came up light at the scales allowing runner-up Korey Weyant to be declared the winner of the "Border War" between the WAR and WAR East Leagues.
Miller moved into the lead immediately from the pole as he was chased by Wyatt Burks, Weyant, and Chris Parkinson. Miller set a torrid pace as Burks and Weyant had a nice battle for the second spot.
About midway through the race, Weyant was able to get by Burks for second and a few laps later, Landon Simon worked his way past Burks with a daring slide job in turns one and two.
With the disqualification, Weyant picked up his fourth WAR League win of 2017 in his Ealey Transportation/Weebles Bar and Grill/Tosti's Transmission Eagle powered by an Autmotive Machine motor. The win also allowed him to extend his points lead in both the WAR and WAR East Leagues.
Simon ran second in the Mount Baker Vapor J & D powered DRC. Burks was third in his RCB Motorsports/Clem Signs/Bumper to Bumper Maxim with Salina power. Parkinson was fourth in his Country Kids Daycare/54th Street Bar and Grill/Design Source Flooring DRC with Kevin's Liberty Machine power. Rounding out the top five was Quinton Benson in his QBR/Midwest Speed Shop/Sea to Sea Transportation Speed Shack Performance powered XXX. Scottie Gretzmacher ran sixth as he was followed by Mitchell Davis. Terry Babb earned the Indy Race Parts Hard Charger after starting eighteenth. Babb had moved well into the top ten early in the 25 lapper to spin to a stop avoiding another car. He then restarted at the tail moving back to eighth. Slater Helt and Steve Mahannah rounded out the top ten.
The heat races were won by Weyant, Burks, and Benson. Mitch Wissmiller broke a break rotor and got upside down in the Bell Helmets 3rd Heat. He was uninjured, but his car suffered too much damage, ending his evening.
The POWRi Lucas Oil WAR Sprints will next be in action on Friday, July 14 and Saturday, July 15 at the Valley Speedway in Grain Valley, Missouri as they run along with the POWRi National Midgets.
The POWRi Lucas Oil WAR East Sprints will next race at the Champaign County Fairgrounds in Champaign, llinois on Friday, July 21. They will follow that up with a show at the Spoon River Speedway in Canton, Illinois on Saturday, July 22.
For schedule information, point standings, and videos of POWRi Racing, please go to POWRi.com for the latest information.
POWRi Lucas Oil WAR & WAR East Sprint Leagues
7/1/17
St. Francois County Raceway - 20 cars
Hinchman Racewear Heat 1 - 8 laps
99-Korey Weyant, Springfield, IL (2); 2. 22S-Slater Helt, Harrisonville, MO (4); 3. 24-Landon Simon, Tipp City, OH (3); 4. 77K-Katlynn Leer, Moulton, IA (1); 5. 20-Steve Thomas, Ludlow, IL (6); 6. 72-Kevin Petty, Farmington, MO (5); 82-Vinny Ward, Warrenton, MO (7)-DNF
Wilwood Disc Brakes Heat 2 - 8 laps
11W-Wyatt Burks, Topeka, KS (1); 2. 65-Chris Parkinson, Gladstone, MO (5); 3. 93-Steve Mahannah, Springfield, MO (3); 4. 52F-Logan Faucon, Elkhart, IL (6); 5. 24X-Keith Burch, Farmington, MO (4); 6. 7S-Wade Seiler, Farmington, MO (7)-DNF; 7. 8D-Terry Babb, Decatur, IL (2)-DNF
Bell Helmets Heat 3 - 8 laps
15B-Quinton Benson, Emma, MO (1); 2. 51B-Joe B. Miller, Millersville, MO (3); 3. 42-Warren Johnson, Overland Park, KS (2); 4. 99G-Scottie Gretzmacher, Farmington, MO (5); 5. 56-Mitchell Davis, Auburn, IL (6); 6. 1-Mitch Wissmiller, Saybrook, IL (2)-DNF
POWRi Lucas Oil WAR & WAR East Sprint A-Main - 25 laps
99-Korey Weyant (5); 2. 24-Landon Simon (8); 3. 11W-Wyatt Burks (3); 4. 65-Chris Parkinson (6); 5. 15B-Quinton Benson (2); 6. 99G-Scottie Gretzmacher (11); 7. 56-Mitchell Davis (13); 8. 8D-Terry Babb (18); 9. 22S-Slater Helt (4); 10. 93-Steve Mahannah (9); 11. 52F-Logan Faucon (7); 12. 24X-Keith Burch (15); 13. 77K-Katlynn Leer (14); 14. 20-Steve Thomas (12); 15. 82-Vinny Ward (16); 16. 42-Warren Johnson (10)-DNF; 17. 7S-Wade Seiler (17)-DNF; 18. 72-Kevin Petty -DNS; 19. 1-Mitch Wissmiller -DNS; 20. 51B-Joe B. Miller (1)-DQ
---
Article Credit: Chad Buford
Back to News