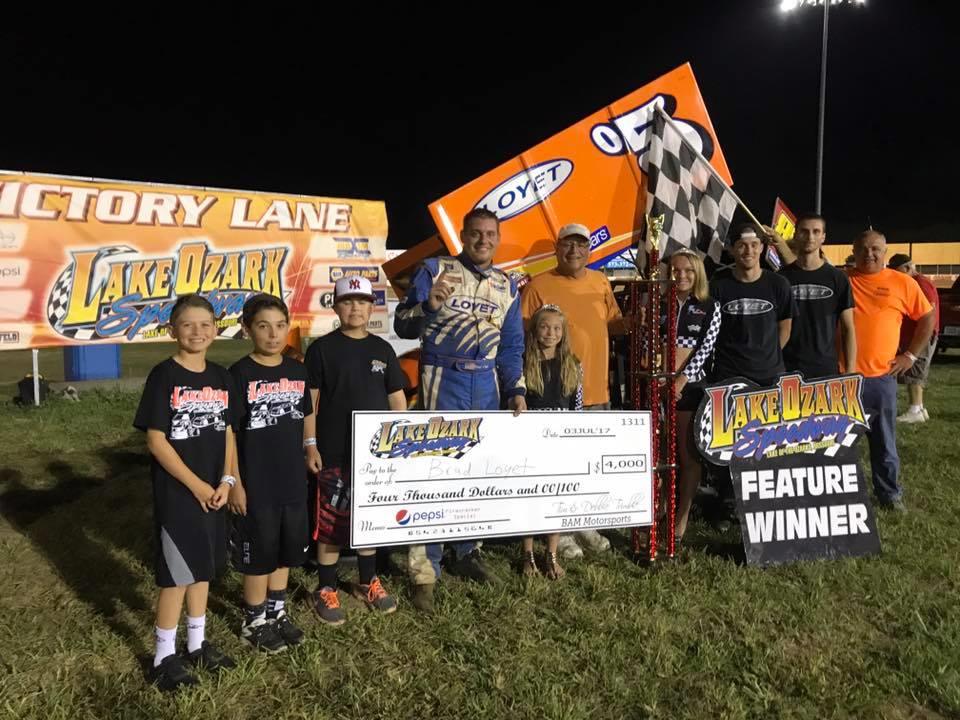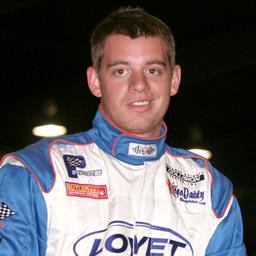 ---
Brad Loyet - Two Win Weekend Provides Fireworks!
Brad Loyet – Two Win Weekend Provides Fireworks!
(Bill W) July 4, 2017 – Brad Loyet and the Vacuworx Global #o5 team racked up a pair of big wins over the weekend, giving them four now on the season. On Saturday, the Sunset Hills, Missouri driver recorded his second victory of the season at St. Francois County Raceway near Farmington, Missouri, and on Monday night, he claimed the $4,000 Lake Ozark Speedway 360 Nationals near Eldon, Missouri. A third place finish with the MOWA series at Tri-State Speedway near Haubstadt, Indiana Sunday was the only hiccup. Brad plans on running again at SFCR Saturday, this time for Joe Reddick's #12x team. The Loyet team will also prepare their midget for Sunday's Pepsi Nationals at Angell Park Speedway in Sun Prairie, Wisconsin.
Saturday at Farmington, Brad started out the night well. "You have to run in the top two to make the Dash," he says. "We were able to run second. We drew a three for the Dash and ran second."
Starting outside row one, Brad and the other sprinters had a good track to run on. "The track was really nice," he says. "It was up on the fence with a nice little curb. It was slick through the middle, but if you hit the bottom right, you could run there too. Robbie Standridge started on the pole and he was running the bottom. He was running well down there and he was hooked up nice. I had a good car on the top. We were biding our time and trying to get a good run at him. It seemed that every time we would, we caught a lapped car."
Eventually, he would make his winning move. "Finally, with about six to go, we were able to get the lead," says Brad. "From there, it was kind of clean sailing from the last restart to the checkered flag. It was nice to get our weekend started off with a win."
The team headed to Haubstadt with MOWA Sunday, and Brad timed in well. "We were second quick by just a small margin," he says. "Kody Kinser nipped us. They invert six in the heat race, but you have to run in the top four. We were able to get to second, but the leader was running a line that was tough to pass. I found out later on, that he was just holding on, because he lost his power steering."
He did what he had to do in the heat, however, and started the main event up front. "They inverted two for the feature, so we started on the pole," says Brad. "We jumped out to the lead right away. We were running about 75%. We weren't seeing anyone, so I focused on hitting my marks and not making a mistake."
Brad would get tangled in traffic, however. "I threw a slider on Jeremy Standridge to lap him with two to go," he says. "In three and four, he threw a slider back on me. That made me check up, and when I did, I jumped the curb and got into the wall. That allowed Kody and Justin Peck by us, and we ended up third. It was one of those deals where we were on cruise control, and something like that happens. I felt like I let my guys down."
The team would install the 360 for Monday's big show at Lake Ozark Speedway. "It was a good chance to redeem ourselves and get a big win pretty close to home," says Brad. "I felt we had a really tough heat race and we were starting last (ninth). But we have a really good package right now on the slick tracks. We were able to get up to third and we were the high-point car."
The feature redraw saw Brad draw a starting spot outside of row two for the 35-lap feature. "They ripped the bottom and watered the top a little," he says. "We were changing one of the shocks. I wasn't sure. We were running 35 laps, and you don't win in the first ten. We ended up changing the shock, and that was the right call. We were average the first eight laps."
He would settle in with the leaders. "We were stuck in there behind Chris Morgan," says Brad. "He was good enough that I couldn't really make a move. Dustin Barks was really good on the bottom. We were finally able to sneak around both of them and get out front. We were able to put the wing in the trunk, and we were really good on the top."
Brad looked good out front, the last half of the race. "We knew it would be tough for someone to catch us and then get around us," he says. "I think I would have seen them before I needed to do anything. We were able to pick up a decent win. We knew we should have won the three this weekend, but two wins and a second aren't bad at all. We aren't really running for points, but we are leading with MOWA again."
Brad's Website
Visit Brad on the web at www.LoyetMotorsports.com!
Brad's Weekly Releases
If you'd like to be added to Brad's e-mail list for weekly releases, e-mail sprntcar@hotmail.com with "Loyet" in the Subject Line.
Brad and the Loyet Motorsports team would like to thank primary sponsors: Vacuworx Global and Loyet Landscape Maintenance. Associate sponsors: Maxim Race Cars, J and D Performance Racing Engines, Butlerbuilt Professional Seat Systems, Meramec Heights Collision Center, KSE Racing, Weld Wheels, Penske Shocks, Wilwood Disc Brakes, Hepfner Racing Products, DMI, Saldana Racing Products, Rod End Supply, Bell Helmets, TI 64, Conroy Control, The Engine Heater, Ealey Transportation, and Speedway Motors.
Photo: Brad and the team celebrate their second win of the weekend at the $4,000 LOS 360 Nationals (Lake Ozark Speedway Photo)
Bill W Media
sprntcar@hotmail.com
Twitter: @BillWMedia
Website: www.OpenWheel101.com
Monroe, IA USA
Back to News