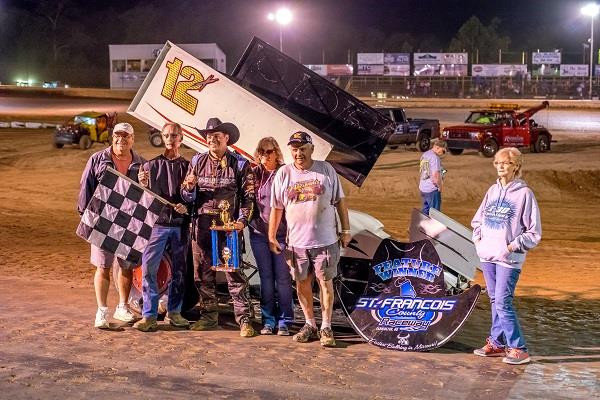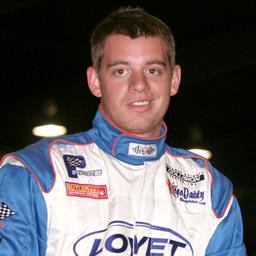 ---
Brad Loyet – From Seventeenth to Victory Lane in Farmington!
Brad Loyet – From Seventeenth to Victory Lane in Farmington!
(Bill W) August 29, 2017 – Brad Loyet had the rare opportunity to drive someone else's car last Saturday night, and he made the most of it, charging from 17th to win the feature Saturday at St. Francois County Raceway near Farmington, Missouri. The Sunset Hills, Missouri driver was piloting Joe and Jodie Reddick's #12x. The Labor Day weekend could be a busy one for Brad. Make-up shows from Illinois Sprintweek loom Thursday in Peoria and Friday at Tri-City Speedway in Granite City.
Amazingly, Brad didn't get much racing done until feature time. "We had a brake issue in hot laps," he says. "We thought it was the right rear rotor. It was cracked and got bent up. We thought that was our issue with the brakes. We took the assembly off the outboard."
Unfortunately, that wasn't the issue. "It was good for about a lap," says Brad of his heat run. "It did the same thing. The brakes just locked up and pulled me into the infield. We changed the master cylinder for the feature, but they surprised us by telling us there would be a B main."
Brad didn't know if they had fixed the problem or not. "We made it a lap before there was a crash," he says. "I still wasn't sure whether the problem was fixed or not. They ended up calling the B main off after that. So the whole night, I had gotten just a lap of green flag racing."
Starting 17th in the main event, he wasted little time moving forward, after finding they had fixed the issue. "We are usually pretty good down there," says Brad. "We used our notes and I brought our shocks down. We kind of put our setup on the car. I knew that we'd have to have some yellows go our way starting 17th, and they did."
Brad quickly moved into the top five. "We were up to fifth or sixth in five laps," he says. "I thought we were sitting pretty good there. I started running a line nobody else was on the top through one and two. That's where we were able to sneak by most of the guys. We got to Montgomery, and the track was starting to lay a little rubber. I was able to sneak by him in that."
The battle for the lead would continue though. "We were still on the top in three and four, and he snuck back by me in some rubber down there with about three to go," says Brad. "Lucky enough, we caught lapped traffic in the next corner, and we were able to sneak back by and get the win."
Brad is appreciative of the opportunity afforded by the Reddick's. "I have to thank Joe and Jodie for that opportunity," he says. "I don't get asked to drive other people's cars very often, so that was nice to be able to do that and get a win for them. I also want to thank Pat O'Hare for his help with the car."
Brad's Website
Visit Brad on the web at www.LoyetMotorsports.com!
Brad's Weekly Releases
If you'd like to be added to Brad's e-mail list for weekly releases, e-mail sprntcar@hotmail.com with "Loyet" in the Subject Line.
Brad and the Loyet Motorsports team would like to thank primary sponsors: Vacuworx Global and Loyet Landscape Maintenance. Associate sponsors: Maxim Race Cars, J and D Performance Racing Engines, Butlerbuilt Professional Seat Systems, Meramec Heights Collision Center, KSE Racing, Weld Wheels, Penske Shocks, Wilwood Disc Brakes, Hepfner Racing Products, DMI, Saldana Racing Products, Rod End Supply, Bell Helmets, TI 64, Conroy Control, The Engine Heater, Ealey Transportation, and Speedway Motors.
Photo: Brad won in Farmington aboard Joe and Jodie Reddick's #12x (SFCR Photo)
Bill W Media
sprntcar@hotmail.com
Twitter: @BillWMedia
Website: www.OpenWheel101.com
Monroe, IA USA
Back to News