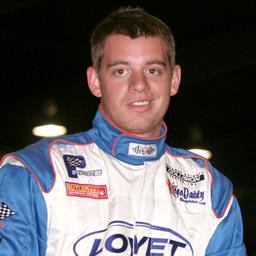 ---
Brad Loyet – Seventh Win of Season Comes at Farmington!
Brad Loyet – Seventh Win of Season Comes at Farmington!
(Bill W) September 19, 2017 – Brad Loyet teamed up with the Joe and Jodie Reddick #12x team for another win at St. Francois County Raceway near Farmington, Missouri. The team celebrated their second win together on Saturday. For Brad, it was his seventh win in 2017 and his fourth in Farmington. This week, he'll be back aboard the Vacuworx Global #o5 at the Jesse Hockett/Daniel McMillin Memorial at Lucas Oil Speedway near Wheatland, Missouri. On Sunday, the team will travel to LaSalle Speedway in Illinois for the Bill Waite Jr. Memorial with the IRA and MOWA series.
This started Saturday with a heat win for the Sunset Hills, Missouri driver. "We had an issue with an oil leak in hot laps," says Brad. "We were able to cinch that up and then start on the pole of the heat. We were able to take off and win that, so we felt good at that point."
Brad started third in the Dash. "We were running third there, and I tried to make a move," he says. "We lost a spot there, and ended up falling back to fourth."
That put him outside row two for the main event. "We got to third quickly," says Brad. "(Joey) Montgomery and (Robbie) Standridge were side by side, battling for the lead. One of them was on the bottom, and the other was on the top. Finally, I was able to sneak by Standridge."
Brad had one more spot to get. "We were able to run Joey down there in lapped traffic," he says. "Going into three and four, he committed to the top behind some lapped cars. I showed my nose and he made a lane change to the bottom. I had almost gotten by him, and he caught my right rear with his left front and spun out. From there, we kind of inherited the lead and went on to win with no problems."
That made him two for two with the Reddick team. "I'd really like to thank Joe and Jodie Reddick for the opportunity to drive their car again," says Brad. "Pat O'Hare is a great help as well. They have a great team. I'm looking forward to teaming up with them again in the future."
Brad is excited about the Jesse Hockett/Daniel McMillin Memorial that will run from Thursday through Saturday. "We were able to win it there a couple of years ago," he says. "That was a huge win for us. We haven't run as much 360 stuff this year as the past, but we'll have confidence going there. We're also looking forward to Sunday's race at LaSalle."
Brad's Website
Visit Brad on the web at www.LoyetMotorsports.com!
Brad's Weekly Releases
If you'd like to be added to Brad's e-mail list for weekly releases, e-mail sprntcar@hotmail.com with "Loyet" in the Subject Line.
Brad and the Loyet Motorsports team would like to thank primary sponsors: Vacuworx Global and Loyet Landscape Maintenance. Associate sponsors: Maxim Race Cars, J and D Performance Racing Engines, Butlerbuilt Professional Seat Systems, Meramec Heights Collision Center, KSE Racing, Weld Wheels, Penske Shocks, Wilwood Disc Brakes, Hepfner Racing Products, DMI, Saldana Racing Products, Rod End Supply, Bell Helmets, TI 64, Conroy Control, The Engine Heater, Ealey Transportation, and Speedway Motors.
Photo: Brad picked up another win for Joe and Jodie Reddick in Farmington
Bill W Media
sprntcar@hotmail.com
Twitter: @BillWMedia
Website: www.OpenWheel101.com
Monroe, IA USA
Back to News