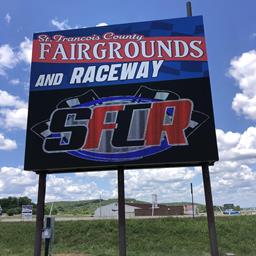 5/17/2023
St Francois County Raceway
---
26th Annual Queen's Royal - Everything You Need To Know
St. Francois County Raceway's 2023 Queen's Royal, will feature a 2-day show full of 410 Sprint Car action.
This 2-day event will be our 26th Annual Queen's Royal, honoring the late Terry Babb.
This year's Queen's Royal will feature two classes, we will be highlighting 410 Sprint Cars with a supporting class of the Mod Lites.
Friday will kick off the weekend with $5,000 to win for the 410 Sprint Class. Saturday we will close the weekend with a $10,088 to win for the 410's, an ode to Terry Babb and his number 88 Sprint car.
Pit Gates Open At 2:00pm Friday & Saturday.
Grandstands Open At 5:00pm Friday & Saturday
Queen's Royal Admission Pricing:
Grandstands:
$15 on Friday and $20 on Saturday
Kids 12 & Under Free
Pits:
$35 on Friday & $40 on Saturday or $70 Weekend Pit Pass
Ages 4-to-12 $20 on Friday & $25 on Saturday or $40 Weekend Pit Pass
Ages 3 & Under Free
Queen's Royal Purse
Friday June 2nd
410 SPRINT PAYOUT
1st - $5000 2nd - $2500 3rd - $1175 4th - $800 5th - $600 6th - $500 7th - $450 8th - $425 9th - $400 10th - $375 11th-15th - $350 16th-24th - $325
B-MAIN $150
-TOP 4 FROM FRIDAY NIGHT A MAIN WILL LOCK INTO SATURDAY NIGHT'S DASH-
Saturday June 3rd
410 SPRINT PAYOUT
1st - $10,088 2nd - $5000 3rd - $2350 4th - $1600 5th - $1200 6th - $1000 7th - $900 8th - $850 9th - $800 10th - $750 11th-15th - $700 16th-24th - $650
B-MAIN $300
Friday June 2nd
MOD-LITE PAYOUT
1st - $800 2nd - $600 3rd - $325 4th - $250 5th - $150 6th - $125 7th - $100 8th - $80 9th - $75 10th - $70 11th-20th - $65
B-MAIN $40
Saturday June 3rd
MOD-LITE PAYOUT
1st - $850 2nd - $650 3rd - $325 4th - $250 5th - $150 6th - $125 7th - $100 8th - $80 9th - $75 10th - $70 11th-20th - $65
B-MAIN $50
-ADDITIONAL $300 FOR MOD-LITE WINNER IF THEY WIN BOTH NIGHTS-
Friday, June 2nd Schedule
3:30 to 5:15pm - Pill Draw
5:30pm - Drivers Meeting
6:00pm -Slow Warm Ups
Mod Lite Hot Laps
Sprint Hot Laps
Sprint Qualifying
Opening Ceremonies
Sprint Heats
Redraw For Sprint Dash
Mod Lite Heats
Sprint Dash
B Main - Last Chance Showdown
(2nd B Main If Needed)
Intermission
Sprint Feature (35 Laps) $5,000 To WIN
Mod Lite Feature
Saturday, June 3rd Schedule
3:30 to 5:15pm - Pill Draw
5:30pm - Drivers Meeting
6:00pm - Slow Warm Ups
Mod Lite Hot Laps
Sprint Hot Laps
Sprint Qualifying
Opening Ceremonies
Sprint Heats
Redraw For Sprint Dash
Mod Lite Heats
Sprint Dash
B Main - Last Chance Showdown
(2nd B Main If Needed)
Intermission With Ceremonies
Sprint Feature (50 Laps) $10,088 to WIN
Mod Lite Feature
-Schedule Subject To Change-
Drivers, our 2023 Queen's Royal registration is now open on MyRacePass for Sprints and Mod Lites! We are only ONE month away, and so are excited for this 2-day event!
*Drivers, if you have attended SFCR during the 2023 season there is no need to fill out the downloadable forms during online registration. *
https://www.myracepass.com/tracks/2473/registrations
For any questions or other information-
Call or Text: (573)-756-9248
Email: resingermotorsportsllc@yahoo.com
---
Submitted By: Laura Carrow
Back to News